There's a global lack of evidence about how many people have disabilities, and about the effectiveness of measures to increase the inclusion of people with disabilities in all areas of life.
At Sightsavers, we want to find new ways to make sure that disability is given more attention within research.
On Thursday 20 February we hosted our first live Twitter chat, where we discussed the current lack of evidence about disability in low and middle income countries, and explored what can be done to ensure that disability is more prominent on the global research agenda.
What if I couldn't make it?
If you weren't able to tune in live, we've put together a highlights reel with key moments from the discussion.
Joining instructions
Please note that this event has now taken place.
At 3pm, introduce yourself and let us know you've joined.
Then, just look out for the questions every 10 minutes starting 'Q1', 'Q2' etc. Tweet your answers by hitting 'reply' to the tweet and using 'A1', 'A2' etc at the start. If your answer is split over a couple of tweets, you can thread them together by replying to your previous post.
Don't forget to include the hashtag #DisabilityResearchChat.
If you would like to prepare in advance, here are the questions we'll be tweeting on the day:
There is a lack of reliable evidence on disability, particularly in low and middle income countries. Why?
How can we ensure that disability is given more prominence in global research?
Academic institutions and NGOs work hand in hand in doing disability research, but what are the key differences between academic and NGO-led research?
How can we get better at meaningfully engaging people with disabilities in research?
What are the most pressing questions that should be on the disability research agenda?
---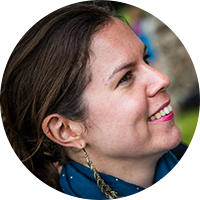 Dr Anna Ruddock
Anna is a global advisor for research uptake and learning and led the Twitter chat from @Sightsavers_Pol. She works closely with our research and technical leads to improve how research is generated, shared and applied to our work. Read one of her latest blogs.